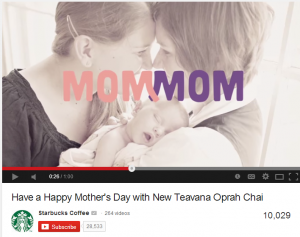 TAKE ACTION: E-mail Starbucks online HERE [or starbucksstore@starbucks.com] or call 877-421-9062.
For Mother's Day Starbucks released the commercial below, voiced by Oprah Winfrey and hawking a new "Oprah Chai" tea. The ad celebrates all sorts of moms–including the "two moms are better than one mom"–shown with the affectionate lesbian "moms" at right and the "M's" in "MOM" in what I suppose is an alphabetic homoerotic embrace (see :24 point in ad). [Watch ad on Starbucks YouTube page HERE.]
Messages like this no long shock a post-Christian America shaped in part by decadent corporations pandering to the highly organized LGBT lobby. Starbucks already has sold its corporate soul (is that an oxymoron?) to the homosexual agenda. Its executives made that clear in 2012 when they defiantly rebuffed a boycott threat by the National Organization for Marriage (NOM) and affirmed that support for homosexual "marriage" is a "core" Starbucks value.
The NOM "Dump Starbucks" boycott that followed seems anemic two years later (only 68,200 pledges)–but Starbucks [877-421-9062] remains a plump target for a more effectual and better organized boycott. Let's face it: finding substitutes for overpriced yuppie coffee is pretty easy. We'll see what happens, but one thing is certain: Starbucks execs are not backing down in their support of sexual sin and they surely aren't acting like they fear the consumer power of mobilized religious conservatives.
Trending: Prosperity gospel televangelist, who is a Trump spiritual adviser, officially opens Trump's reelection campaign launch with prayer spiritually destroying the demonic network against the president and saying his 2020 victory assured in the name of Jesus Christ
As for the content of the ad, Oprah and Starbucks are dead wrong: Two lesbians "moms" are NOT better than one mom–especially one raising children with her husband and their father in a real marriage. And if higher numbers are better, wouldn't three or four lesbian moms be best? We used to take it for granted that kids do better with a married mother and father, but now that's a point of contention and marriage itself is being radically redefined. The reality is, this liberal social engineering is bad for kids: Kansas State professor Walter Schumm confirmed "[Paul] Cameron's (2006) hypothesis that gay and lesbian parents would be more likely to have gay, lesbian, bisexual or unsure (of sexual orientation) sons and daughters."
As for single moms, our hearts go out to the many women who find themselves struggling to provide for their children with no dad in the house. But at least in most cases, single moms did not set out to deny their kids a father–just as single straight dads–unlike homosexual two-"dad" households–did not intentionally create motherless homes. And unlike those snuggling Starbucks lesbians in the ad below, single moms are not modeling deviant and immoral behavior condemned by God to their innocent children.
The opinions expressed by columnists are their own and do not necessarily represent the views of Barb Wire.