By Mark Alley
What a "long strange trip it's been," just in the course of one weekend, with Hillary Rodham Clinton as the general locus. But let's not talk about the trip — let's talk about RICO.
I believe I could readily generate sufficient probable cause to suggest that Hillary Rodham Clinton, William Jefferson Clinton, Loretta Elizabeth Lynch, James Brien Comey and Andrew McCabe, along with Huma Abedin, Anthony Weiner (aka Carlos Danger), Cheryl Mills and Barack Hussein Obama should be charged under US RICO statutes.
What is RICO? It is delineated under 18 USC § 1961, a Racketeer Influenced and Corrupt Organization:
Is a United States federal law that provides for extended criminal penalties and a civil cause of action for acts performed as part of an ongoing criminal organization. The RICO Act focuses specifically on racketeering, and it allows the leaders of a syndicate to be tried for the crimes which they ordered others to do or assisted them in doing, closing a perceived loophole that allowed a person who instructed someone else to, for example, murder, to be exempt from the trial because he did not actually commit the crime personally.[1]
Trending: Does Supreme Court Need Term Limits?
Further:
Under RICO, a person who has committed "at least two acts of racketeering activity" drawn from a list of 35 crimes—27 federal crimes and 8 state crimes—within a 10-year period can be charged with racketeering if such acts are related in one of four specified ways to an "enterprise". Those found guilty of racketeering can be fined up to $25,000 and sentenced to 20 years in prison per racketeering count. In addition, the racketeer must forfeit all ill-gotten gains and interest in any business gained through a pattern of "racketeering activity."

When the U.S. Attorney decides to indict someone under RICO, he or she has the option of seeking a pre-trial restraining order or injunction to temporarily seize a defendant's assets and prevent the transfer of potentially forfeitable property, as well as require the defendant to put up a performance bond. This provision was placed in the law because the owners of Mafia-related shell corporations often absconded with the assets. An injunction and/or performance bond ensures that there is something to seize in the event of a guilty verdict.
I believe I could make an excellent argument for its application.
As we all recall, FBI Director Comey independently decided in July of this year that he would not recommend an indictment for Hillary Clinton or even the impaneling of a Grand Jury. DOJ under Lynch and Obama, corrupt as they are, pretended to be professional and placed the decision right back squarely at the feet of James Comey as in: "whatever he decides is good enough for us."
"[AG Lynch] said…she would accept whatever recommendations career prosecutors and the F.B.I. director made…" –NYTimes July 1, 2016
Though, of course, the fix was already in. Any logical thinking human being knew the meeting between AG Lynch and Bill Clinton at the airport was 1) not coincidental, and 2) an agreement by Lynch to assure Bill Clinton that Hillary would not be indicted. Judicial Watch has rightly filed a FOIA request for all documents related to that meeting.
I connected all the dots here, to that point. Those dots are many, varied, complex, tightly interwoven and crafted like the careful dovetailing on a fine piece of furniture. But it all depends on one highly critical element that cannot be maintained perpetually: believing the lies. When one lie breaks and is discovered, there can be an eventual unraveling.
That is beginning to occur in a bit a rushing fashion, beginning this past weekend.
On last Friday a bombshell erupted with regard to the FBI, Hillary Clinton and her emails. FBI Director Comey decided to re-open the investigation of HRC.
From the UKDailyMail.com:
FBI reopens Hillary email probe after messages 'pertinent to the Clinton investigation' are discovered on a laptop by agents investigating DailyMail.com's report Weiner sexted a 15-year-old girl

By Francesca Chambers For Dailymail.com and David Martosko, U.s. Political Editor, In Manchester, New Hampshire and Geoff Earle, Deputy U.s. Political Editor, In Cedar Rapids, Iowa, For Dailymail.com and Alana Goodman For Dailymail.com
Hillary Clinton finally held a brief conference Friday at 7pm six hours after news broke

She asked the bureau to explain the issue in question without any delay

At 1pm, FBI Director James Comey dramatically revealed Hillary Clinton is back under investigation

New correspondences were found on a device which Anthony Weiner and Huma Abedin shared

Were uncovered after DailyMail.com revealed he sexted a 15-year-old girl – sparking FBI probe

FBI launched investigation in September after disclosure that he sent explicit messages and photographs

At afternoon rallies, Clinton said nothing about the new FBI revelations 

Her campaign chairman John Podesta launched assault on FBI for 'extraordinary' move before election 

Trump told supporters in Manchester, NH, the FBI were would overturn ' the miscarriage of justice'

Development is just 11 days before America votes and amid a sliding poll lead for Clinton 

She has been hit by revelations of her family's tangled business and charity interests from leaked emails

Comey announced in July that he wouldn't recommend prosecuting Clinton over the private email scandal

He said he found her 'extremely careless' but she had no criminal intent
Hillary Clinton's campaign was rocked on Friday after the FBI sensationally reopened their investigation into her secret server after they discovered email exchanges between her and top aide Huma Abedin on her estranged husband Anthony Weiner's laptop.

The emails, which prompted FBI Director James Comey to reexamine the case, were found after Weiner's electronic devices were seized by the FBI during the probe into him sexting a 15-year-old girl.

The FBI swooped in on Weiner in September after DailyMail.com revealed he had sent explicit messages and graphic pictures to the 15-year-old, fully aware she was under-age.

After reviewing the emails, the FBI launched a move which sent shockwaves through both presidential campaigns.

In a letter sent to Congress, Comey said that he had launched an investigation into the 'pertinent' exchanges to determine if any of the emails – which allegedly number more than 1,000 in total – contain classified information and whether any of them are 'significant.'
And with that, let the Hillary Rodham Clinton lying commence. She was once typified as a pathological liar. There is now no disputing that whatsoever. She lacks the ability to tell the truth when the truth would save her, salve her or mitigate her. But no; she cannot.
First words out of her mouth: the letter was sent to Republican members of Congress only. A lie. The letter by Director Comey was sent to both sides as documented here.
The other lie from Clinton, that first hour, revolved around the wi-fi being out on her campaign plane, a meme trotted out by the American Media Maggots nationwide but refuted by Pat Dollard:
Hillary Shuts Off The Wi-Fi On Her Campaign Plane So Press Can't See/Report Story On FBI Reopening Her Criminal Case
Excerpted From The American Mirror: A bombshell rocked the presidential campaign today, and reporters flying with Hillary Clinton were in the dark because the plane's wifi was reportedly out.

One advisor, whom Mattingly did not name, used the patented Obama/Clinton line, "We're learning about this just like you all are."

With one notable exception: reporter Byron Tau. Check out his Tweet above.
There were two lies from Clinton within an hour of the news of Comey re-opening the case. In a bit of irony, here is what one got from Google when one entered the phrase "pathological liar."

Is that not buttery ironical goodness?
But wait. Not only did FBI Director refuse to recommend either an indictment or even a Grand Jury for Hillary Clinton in July, the FBI has destroyed evidence (the FBI agreement to destroy the laptops of Clinton aides Cheryl Mills and Heather Samuelson), the Clinton campaign has destroyed evidence (the cell phones smashed by staffers with hammers as well as wiping of Hillary's private servers with BleachBit), the interview of Hillary Rodham Clinton was a sham, there were no subpoenas, no evidence collected.
Notes released from the FBI (pages can be viewed here) indicate Hillary Clinton could not recall much information and provided little detail in the 3.5 hours she was interviewed. Agents asked few direct and pointed questions and few follow-up questions (for example, regarding her health claims, documentation, doctors' notes, etc). The takeaway was a weak interview consisting of softballs and puffy clouds. Even then, Hillary Clinton revealed her ignorance.
Angelina Jolie was interviewed for four hours regarding child abuse claims against Brad Pitt. The former Secretary of State and presidential candidate is taken less seriously than an actress in Hollywood.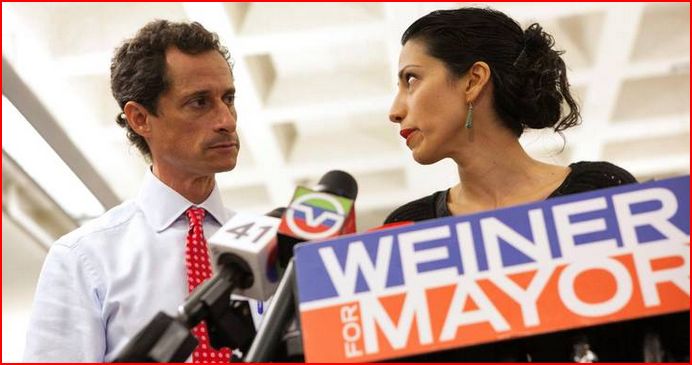 It was discovered on Sunday that there were 650,000 emails on the laptop used by Anthony Weiner and estranged wife Huma Abedin. Yes; close to three-quarters of a million emails.
Let us not forget the rancid involvement of Assistant Director Andrew McCabe, the number two man in the FBI, whose job it was to directly supervise and monitor the Hillary Clinton email investigation. From the WSJ.com:
The Wall Street Journal reported last week that Mr. McCabe's wife, Jill McCabe, received $467,500 in campaign funds in late 2015 from the political-action committee of Virginia Gov. Terry McAuliffe, a longtime ally of the Clintons and, until he was elected governor in November 2013, a Clinton Foundation board member.

In February of this year, Mr. McCabe ascended from the No. 3 position at the FBI to the deputy director post. When he assumed that role, officials say, he started overseeing the probe into Mrs. Clinton's use of a private email server for government work when she was secretary of state.

FBI officials have said Mr. McCabe had no role in the Clinton email probe until he became deputy director, and by then his wife's campaign was over.

But other Clinton-related investigations were under way within the FBI, and they have been the subject of internal debate for months, according to people familiar with the matter.
The opinions expressed by columnists are their own and do not necessarily represent the views of Barb Wire.