By Mark Alley
Besides the NY Times, the New Yorker, CNN and NBC abandoning you, and having Jimmy Kimmel say:
KIMMEL:   "Hillary Clinton was supposed to be in California today — but she had to cancel the trip because of illness. You probably know Hillary was coughing a lot in public last week and then yesterday she was forced to leave a 9/11 memorial because she was feeling faint. Turns out on Friday Clinton's doctor had diagnosed her with pneumonia but they kept it secret until this happened and they were forced to admit it. You know, these conspiracy theories about Hillary Clinton's health would be a lot harder to believe if they didn't actually come true."
Then there was this slap-in-the-face that occurred during a Hillary Clinton rally Friday, attended by Michelle Obama — from the WashingtonExaminer.com:
Trending: In Attacks on Kavanaugh, We're Shocked — Shocked! — that Abortion Enthusiasts Act Repulsively
Michelle Obama greeted with 'Four More Years' chants at Clinton event

by Al Weaver

FAIRFAX, Va. — In her first appearance on the campaign trail in support of former Secretary of State Hillary Clinton, first lady Michelle Obama was greeted with chants of "four more years," all the while bashing Donald Trump for his comments questioning where President Obama was born and talking up Clinton as the Democratic nominee.

Soon after she took the stage at George Mason University, Obama spoke about first family's impending departure from the White House, which was met with chants from supporters.

"My family is almost at the end of our time in the White House," Obama said before she was drowned out by groans from the crowd before they started up the "four more years" chant. Throughout the chants, the first lady kept saying "noooo."
How gloriously embarrassing it must have been for Hillary Rodham Clinton whilst, at "her house," her "guest" received greater accolades, grandeur and huzzahs than did she.
With this in mind: the Clintons despise the Obamas and vice versa.  Recently leaked Colin Powell emails prove it.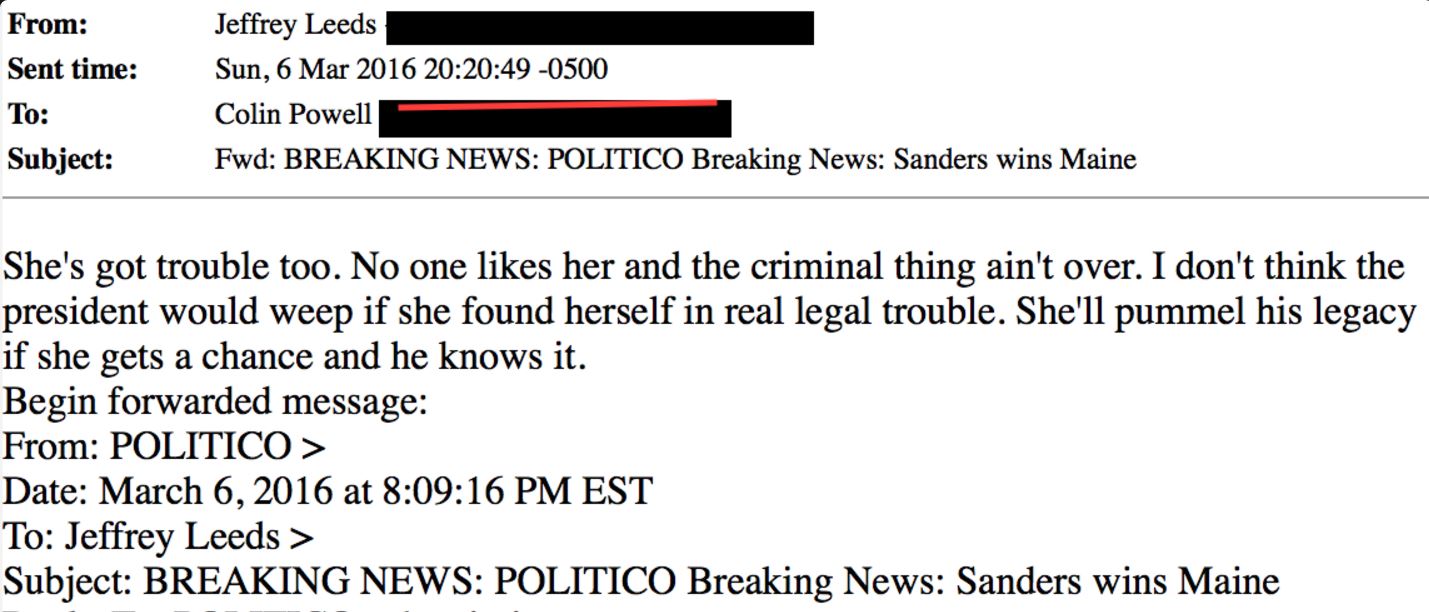 There was also the recent 2014 book written by Edward Klein entitled "Blood Feud" in which Michelle coined the very creative descriptor "Hildebeest" for HRC. Willie J was known to have said "I hate that man Obama more than any man I've ever met, more than any man who ever lived," the New York Post wrote.
From the WashingtonTimes.com:
Mr. Clinton was particularly upset at Mr. Obama's suggestion during the 2008 campaign season that he was a racist, The Blaze reported. Mr. Obama — who was forced to admit he needed Mr. Clinton's support to win — ultimately phoned the former president in 2011 and asked him to play golf.

Mr. Clinton's response to the invite, which he did ultimately accept: "I'm not going to enjoy this," Mr. Klein wrote in his book.
Then there's this bit-o-tid:
Mr. Klein goes on to chronicle that during the golf match, Mr. Clintontalked about his wife's presidential qualifications — and was taken off guard when Mr. Obama, at one point, said: "You know, Michelle would make a great presidential candidate, too," as quoted by a Clinton family friend.
Ah yes, Michelle stealing all the air from a Hillary Clinton event.
Shades of a possible future if the Hildebeest stalls?
First published at Bloviating Zeppelin
About Mark Alley:
A former Democrat in his tender and ignorant youth, he is now a Conservative first and, these days, quite a distant Republican with a dash of Libertarian mixed in for good measure.
Mark is a recently-retired US law enforcement officer, having worked 41 years for the FBI, the US Marshals, a coastal CA county and 35 years for a 2,000+ officer department in Northern California. He is a Silverback, an Oathkeeper and always a Sheepdog.
Alley believes in God, the strength of America, the brilliance of our Founding Fathers, the valor of our military, and the need for Leadership in all forms and on every level. He is not an advocate of censorship as he believes everyone on the Far Left has a God-given right to be painfully stupid — as he has a right to expose said stupidity.
The opinions expressed by columnists are their own and do not necessarily represent the views of Barb Wire.