Families should stay away from Disney World June 3 – 9. A "gay" man explains why
"Over the years I have heard about, and have witnessed, what is commonly referred to as PDA (public displays of affection) during Gay Days, and almost always it's done in full view of a family, or at least children. I don't care if you're straight or gay, there are some things kids don't need to see – and trust me, two queens [flamboyant homosexual men] frenching outside Cinderella castle is really high on that list." – Homosexual advocate and Disney expert Peter Werner, "Why I'm Not Going to Gay Days This Year"
"Gay Days" Disneyworld Schedule for 2014:
Thurs., June 5 – Animal Kingdom
Fri., June 6 – Disney's Hollywood Studios
Sat., June 7 – Magic Kingdom, [by far the largest "Gay Days" event]
Sun, June 8 – Epcot
Folks, it's that time of the year for "Gay Days at Disney World"–when unsuspecting families who have already shelled out a ton of cash for a Disney trip are shocked to discover that their much-anticipated visit coincides with one of the biggest celebrations of out-and-proud homosexuality on the planet. I just called Disneyworld's ticket agency (407-939-5277) and they do NOT warn families about "Gay Days" at Magic Kingdom Sat., June 7 (see above for the full schedule for the various theme park "Gay Days" June 3-9.)
When I asked about the upcoming Gay Days on June 7, the person on the phone had no specific, ready knowledge to impart about the event, and told me (accurately) that the homosexual celebration is a private affair and "We're not associated with that." She had to look up the date on the web to confirm to me that June 7 is "Gay Day" for Magic Kingdom–indicating that Disney (probably fearing a "discrimination" charge or lawsuit) has not provided its phone ticketing agents with a pre-written script about the controversial "Days." This policy of not alerting people to "Gay Days" explains why some unfortunate families get surprised the first weekend of June every year at Disney World.
When I asked whether some families had complained after arriving at Magic Kingdom only to learn that thousands upon thousands of homosexuals engaging in same-sex kisses, etc., will be at the park that day, she acknowledged that this has happened but downplayed its seriousness. Perhaps this happened to "one family" last year, she said–which sounds to me like quite an understatement.
Trending: NBC's Transgender Attacks Bradlee Dean &; Alex Jones by Playing the Victim
The following is excerpted from Disney travel expert Pete Werner's online article, "Why I'm Not Going to Gay Days this Year"; there is a podcast accompanying the article–which appears to have been recorded a few years ago. I differ greatly with Werner on the morality of homosexuality and "gay rights," but he's doing a decent thing here–and I'm sure he's taken a lot of flak for it. Please alert your vacationing friends about June 7. You can listen to online to Werner's podcast on Gay Days HERE. God bless.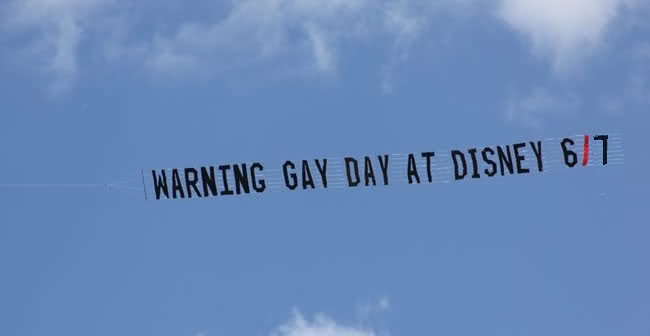 Why I'm Not Going to Gay Days This Year
By Pete Werner [complete article and podcast HERE]
Authors Note: This article pertains mainly to the Saturday event during Gay Days. The rest of the week is fairly benign. My suggestion to those who wish to avoid the event is to avoid the Magic Kingdom on the first Saturday of June. During the week, a different theme park is featured for the "Gay Days" event. If you wish to avoid the crowds, I suggest that you avoid the scheduled park for that day.
The Gay Days schedule for 2014:
Thu, June 5 – Animal Kingdom
Fri, June 6 – Disney's Hollywood Studios
Sat, June 7 – Magic Kingdom
Sun, June 8 – Epcot
"Go get a room."
That's exactly what I feel like yelling this time every year as Gay Days descend upon Orlando. I know that during the first week in June, unsuspecting families and otherwise good and reasonable people will, at times, be confronted with images and events they would probably rather not see or experience on their family vacation. These people paid to visit Disney World, but during the first week in June, it looks a lot more like South Beach.
For the record, I'm a 42-year old gay man living in Orlando. I've been to Gay Days before, and thought it was a little bit over the top, but always bit my lip – especially here on the site. This year though, it just seems completely out of control, and I wanted to get this off my chest.
I've watched over the years as Gay Days has grown in scope and size. What once was a small group of well-meaning gay men and lesbians has grown – and in my opinion, deformed – into what is now nothing more than a vile spectacle of self indulgence and indecency.
No matter how prudish that last sentence may sound, trust me – I'm no prude. I have a liberal streak that cuts through me like a hot knife through butter, but I like to think that I was raised with a certain sense of decency and a pretty good sense of right and wrong. There is a time and a place for everything, and Disney World is neither in this instance.
Over the years I have heard about, and have witnessed, what is commonly referred to as PDA (public displays of affection) during gay days, and almost always it's done in full view of a family, or at least children. I don't care if you're straight or gay, there are some things kids don't need to see – and trust me, two queens frenching outside Cinderella castle is really high on that list.
I can't help but think of, and feel sorry for – the unsuspecting family who saved for years for a once in a lifetime trip – only to arrive and find that Disney had in fact, been invaded by he-women and shaved down muscle boys. By itself that would not be a problem, but the sheer number of people who seem to go out of their way to rub their sexuality in everyone's face during this 'event' is nothing short of disgraceful. Is the Magic Kingdom REALLY the place for a 5 year old to ask his father why those two men are kissing? Is it really up to any person to decide for that parent when, or if, they will have that conversation with their child? I've always believed the best way we, as gay men and lesbians, could further our cause was to simply live our lives openly, and with dignity. Not hide in shame, and not force our beliefs or lifestyle down anyone else's throat. I don't like it when I hear pompous windbags telling me I'm going to burn in hell for being gay, and I'm sure most of the free world would appreciate a visit to Disney World that did not include the vision of grown men in go-go shorts, and ads for lubricant prominently displayed throughout the host hotel. Oh, and while we're on the subject of 'image' at the host hotel (this year it was the Sheraton World on International Drive)– the line of beer trucks outside the resort was a nice touch, and the liquor kiosks and condom ads every 5 feet will certainly not further the image of us as a bunch of drunken sex fiends.

The argument is often put forth that since Christian groups congregate at Disney World, why not us? Fair enough, except that the 'Night of Joy' (the Christian concert that takes place at the Magic Kingdom each year) is a hard ticket event – meaning that it's not open to the public, and requires separate admission. The Magic Kingdom is closed down to the public at a certain time, and only those people that CHOOSE to be there are allowed in. Families that come to the Magic Kingdom on Gay Days are not afforded the luxury of choice. Since Disney does not sanction the event, it's not mentioned anywhere, or to anyone booking a reservation during that week. If "Gay Day" at the Magic Kingdom was a hard ticket event like the Night of Joy, sign me up. But it's not – it's far from it. Trust me, if a religious group organized 100,000 Christians to go and 'make yourself known' in the Magic Kingdom one day a year – and began rubbing their lifestyles in the faces of visitors by preaching to them as they tried to ride Space Mountain – plenty of people would be up in arms.
Then there is the issue of drugs. It is widely known throughout the gay community in Orlando that if you want good drugs and great sex, the first week of June is a great time to visit. So much so, that the Orange County Sheriff's office found it necessary to station deputies and drug sniffing dogs in the lobby of the host hotel. And before the oppression chorus starts warming up, just get real – we all know that it goes on in droves during gay week – and it's not 'oppression' if it's justified. I don't mean to imply that every person attending gay days is a drug crazed lunatic – the vast majority are not – but no one in the gay community can deny how pervasive this problem is, and the problem travels with us…. [continued at http://www.wdwinfo.com/disney-gay-days.htm]
The opinions expressed by columnists are their own and do not necessarily represent the views of Barb Wire.