Behind the Scenes in the 'Gay' Clubs in Schools: Radical Adult Activists Attacking Parents.
The universal refrain from the homosexual movement about criticism of the "gay" (GSA) clubs in the schools is that it's all organized and run by students – not by adults. And that it's simply a support group for "gay" students who are bullied in school and may even feel suicidal. The main messages, they say, are love and tolerance.
The truth – as we've seen over the years – is quite the opposite. One sees numerous radical (and often angry) adult activists connected with these "youth" clubs. The emphasis is on promoting the LGBT political agenda while encouraging sexual experimentation. Besides trying to make kids  comfortable with homosexuality and transgenderism, the adults work to disconnect the kids from their tradition-minded parents.
The "sex" part is particularly disturbing. We have observed and documented a proliferation of sexual and homosexual paraphernalia, condoms, lubricants, and literature given to kids at GSA related events.
The Tennessee 'gay club' rally
Over the past month, MassResistance has been covering the situation in Franklin County, Tenn., where parents have been reacting to a newly installed "gay" club in the high school.
On March 14, the Franklin County School Board had its monthly meeting. They had planned to discuss measures to curtail "gay" club at the high school.
Before the School Board meeting, some of the high school "gay" club students had announced that they were holding a rally outside the school to support the club.
See the truth for yourself
But like every other "gay" club activity we've seen, this "student" event was completely organized and run by radical adult activists – some from neighboring Alabama. Their message to the high school kids at the rally was chilling. It was a rare chance to see firsthand what the kind of "love and tolerance" messages the kids are given in these "gay" clubs.
VIDEO: (3 min 51 sec)
https://youtu.be/nqE8ndkxjZo
Some examples of what the speakers said:
| | |
| --- | --- |
| | "You have taken on a leadership role to teach people [i.e., your parents] how to be human. And it's a hard job learning how to be human." |
| | |
| --- | --- |
| | "You have assured that your grandchildren will cringe in shame when your name is mentioned. Your legacy will be one of hate, narrowness, and ignorance." |
Very sad and troubling
Looking around, the truly sad part was that many of the high school kids there really looked troubled. One local Franklin school official told us that the "gay" club attracted the struggling kids were socially immature, had other emotional issues, who didn't join sports teams or other clubs, and didn't fit in to "with it" social groups at school. (We've seen this in our Massachusetts experience.)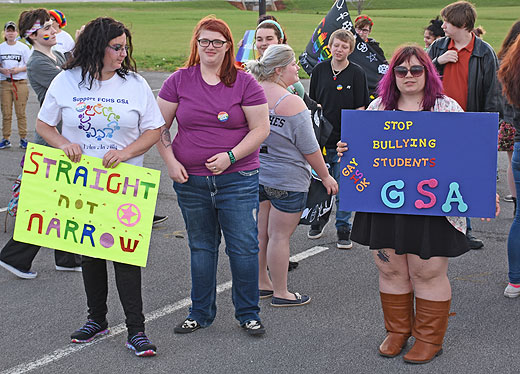 But once in the club, the kids were being strongly influenced by these outside adults, encouraged to adopt an LGBT identity, and to disengage themselves emotionally from their parents. Many of these kids need real help, not the selfish psychobabble of these activists.
And there is also the anger from these activists – persuading kids that those in the local community who don't agree with this agenda are "evil."
We have seen the harm these "clubs" do to vulnerable kids. We have also seen how kids can really improve if their parents can remove them from the toxic environment of these "clubs."
The Franklin County School Board seems to recognize this and wants to do the right thing. Let's hope they do it.
First published at Mass Resistance
---
---
Posting Policy
We have no tolerance for comments containing violence, racism, vulgarity, profanity, all caps, or discourteous behavior. Thank you for partnering with us to maintain a courteous and useful public environment where we can engage in reasonable discourse.