What Went Wrong in the 'Religious Freedom' Fight in Indiana and Arkansas?
Authored with Brian Camenker of MassResistance.
Failure by pro-family leaders to see roots of problem.
The mainstream pro-family movement continues to be its own worst enemy. Back in October we wrote an article, "How the pro-family movement helped spread "gay marriage" across America." It turns out there were more failures to come.
The recent surrender on the "Religious Freedom Restoration Act" (RFRA) bills by the Governors of Indiana and Arkansas can be directly tied to the myriad bad decisions and compromises by well-meaning pro-family groups and individuals, who are sorely overmatched by the homosexual lobby in strategy, tactics, and funding.
RFRA Recap: Arizona, Indiana, Arkansas
Last month the Indiana legislature passed a rather bland RFRA bill, similar to many around the country, which was then signed by Republican Governor Mike Pence. The original bill would have allowed businesses to defend themselves in court if forced by a law to violate their religious beliefs — and the government would have to show a compelling state interest before a religious-belief defense could be rejected. (Read that original bill HERE.)
In Feb. 2014, in a preview of what was to occur in Indiana, the Arizona legislature passed a similar RFRA bill to protect Christian owners of small businesses. Republican Governor Jan Brewer was about to sign it when the homosexual lobby got its big corporate friends to pressure her. The NFL even threatened to take the Super Bowl out of Arizona. Gov. Brewer caved and vetoed the bill.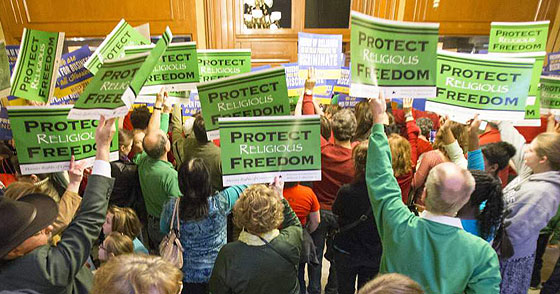 At the Indiana State House as the original bill was being debated.
So it wasn't too surprising when the homosexual movement decided to make another example of Indiana, unleashing its full fury against the state last month. A blizzard of major corporations and activist groups (along with the national liberal media) descended on Gov. Pence and the legislature, claiming that simply to allow a wedding photographer or caterer to defend himself in court (for refusing service) would be "discrimination" and reason for corporate America to boycott the state.
The pro-family movement's response was a flood of articles analyzing and complaining about the situation. RFRA bills had been around for decades, they pointed out. The homosexual activists and their allies were decried as hypocrites and bullies. A parade of conservatives swore they were not "anti-gay," would never discriminate against homosexuals, but did want their religious freedom. Most of the focus was on defending the freedom of religion, assuming that was the key to controlling the monstrous expansion of LGBT censorship and control.
After several days of pressure, Gov. Pence finally gave up and directed the legislature to draft a bill that would make sure business owners could not legally fight charges of "discrimination" based on sexual orientation or gender identity –even on religious grounds. In fact, the new bill , which Pence quickly signed, is basically a "gay rights" bill.
Days later, the same scenario played out in Arkansas. That state legislature passed a similar RFRA bill on April 1. The homosexual lobby and corporate allies (including gigantic Wal-Mart) pounced. Republican Governor Asa Hutchinson rolled over without a fight and had the bill modified to sufficiently appease the homosexual activists.
The immediate pro-family problem: politicians left dangling in storm
These were shameful surrenders. On the other hand, given the state of the national GOP, expecting any Republican politician to stand up for a pro-family principle under pressure is unrealistic.
To be fair to the politicians, the pro-family movement hasn't offered them much support. The Governors needed a public outcry from thousands of angry conservatives pointing out that "religious freedom" means having the right to decide what is immoral, unnatural, perverse, and destructive – and can be openly opposed. And the Governors needed to be forced to think hard about giving special protections to people on the basis of undefined "sexual orientations" while demonizing citizens holding traditional moral values.
Instead, in each of these three states, when the homosexual media blitzkrieg marched in, the Governors were basically left on their own, untutored, swearing they opposed "discrimination" – while the pro-family movement mostly sat back and wrote commentaries. So of course our side got creamed. And now the surrender message is out there, so the same collapse will likely happen again.
The longer-term problems
As we noted in our previous article, the real problems go back a couple of decades. The seeds of disaster were planted long ago by leftists, but allowed to go unchallenged and even accepted by conservatives (including most pro-family leaders). Here are the major issues they have failed to address:
Amidst the bad news, a ray of hope
They haven't silenced everyone yet!
There is a handful of conservative pro-family voices (besides MassResistance) who are fighting this destructive trend and are at least telling the truth. This includes Scott Lively, Bryan Fischer, Laurie Higgins, Peter LaBarbera, John Biver, Stella Morabito, Cliff Kincaid, Gina Miller, Robert Knight, Peter Sprigg, Linda Harvey and others. We hope it's a growing trend.
Telling the truth loudly and clearly is an absolute necessity in a battle like this. But as we've pointed out, it's just the beginning.
---
---
Posting Policy
We have no tolerance for comments containing violence, racism, vulgarity, profanity, all caps, or discourteous behavior. Thank you for partnering with us to maintain a courteous and useful public environment where we can engage in reasonable discourse.